Welcome to Hume Villa Motor Inn
Hume Villa Motor Inn is on Sydney Road in Fawkner, just 25 minutes north of the Melbourne CBD by train or car. Our motel is close to Melbourne Airport (MEL) and well suited for anyone needing hotel accommodation near Melbourne Airport – only 14 kilometres away. (Map of Melbourne)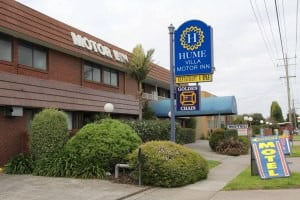 Hume Villa Motor Inn is a Member of Golden Chain Motels which means guests with Golden Chain Travel Link cards maybe eligible for discount accommodation prices. Our Motel has 35 suites ranging from Deluxe Rooms, Standard Rooms and Spa Units and a selection of Family Rooms – Standard, Deluxe and Two Bedroom. We also have Disabled Access Accommodation for guests with special needs.
Our Melbourne Motel has a Licensed Restaurant available open 4 days a week Monday to Thursday, room service is also available. Other accommodation features include In-House Movies, Wireless Internet, Direct Dial phones, Children's adventure playground, guest laundry, and ample off street under cover car parking.
Train to the city is only a 5 minute walk. You'll also find easy access to the Spirit of Tasmania via the Western Ring Road. If you looking for budget priced Motel Accommodation close to Melbourne Airport then book into the Hume Villa Motor Inn.

MOTEL OPEN – COVID19 Management
Hume Villa Motor Inn is open, clean and operational.
We do not have returned travelers quarantined in the Hume Villa Motel.
The safety of our staff, clientele and community is of the upmost importance. We are operating in line with the latest advice from the Department of Health and Human Services and State and Federal Government.
The Coronavirus (COVID-19) is having a significant impact on our Country and the World.
Our Fawkner Melbourne Motel and suppliers remain acutely aware of the impact this is having.
Hume Villa Motel has a significantly enhanced focus on social distancing and health and safety measures.
We will continue to provide our quality Melbourne accommodation service to our guests.
We have the capacity for accommodation continuity with a focus on clean, safe, friendly and service focused Hotel accommodation, with secure onsite parking and clean ensuite and kitchenettes.
Our large Melbourne Motel has car parking facilities for larger vehicles, four wheel drives, caravans and campers.
We also have available disabled accommodation with dedicated rooms and disabled access.
We have no reported cases of illness or illness relating to COVID-19 within our Motel and we will remain open and ready to service all Melbourne Motel accommodation requirements.
We wish you well through these challenging times and we are confident to safely service all our customers' needs.
We do appreciate your ongoing support.