Accommodation Near Melbourne Airport
Hume Villa Motor Inn is convenient and low cost accommodation near Melbourne airport – the only airport serving international flights to Melbourne. Melbourne Airport – MEL (aka Tullamarine Airport). The IATA airport code for Melbourne Airport is MEL.
Melbourne Airport serves as a major hub international and domestic flights for Qantas and Virgin Australia, while Jetstar Airways and Tiger Airways Australia also supply a significant amount of domestic traffic.
Melbourne Airport is also the busiest airport for international export freight and second busiest airport for import freight. Domestic freight carriers Toll Priority and Australian Air Express account maintain their headquarters at Melbourne Airport.
Melbourne Airport
Melbourne Airport's 4 Terminals have 56 gates: 40 domestic and 16 international. There are five dedicated freighter parking positions on the Southern Freighter Apron.
Terminal 1
Terminal 1 hosts domestic services for Qantas,  Jetstar and QantasLink. Departures are located on the first floor, while arrivals are located on the ground floor. There are a wide range of shops and food outlets at the end of the terminal near the entrance into Terminal 2. Qantas has a Qantas Club, Business Class and a Chairman's lounge in the terminal.
Terminal 2 or T2 International Terminal
Terminal 2 handles all international flights out of Melbourne Airport. Cathay Pacific, Malaysia Airlines, Qantas (which includes two lounges in Terminal 2, a First lounge and a Business lounge/Qantas Club), Thai Airways International, Singapore Airlines, Air New Zealand/United Airlines and Emirates Airline all operate airline lounges in the terminal. The new concourse includes three double-decker aerobridges, each accommodating an A380 aircraft or two smaller aircraft and one single aerobridge.
Terminal 3
Terminal 3 is home to Virgin Australia and Regional Express Airlines. It currently has eleven parking bays served by single aerobridges and eight parking bays not equipped with aerobridges.
Terminal 4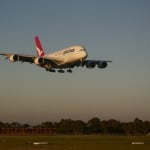 Terminal 4 – originally called the Domestic Express or South Terminal – is dedicated to budget airlines and is the first facility of its kind at a conventional airport in Australia. It was originally constructed for Virgin Blue (Virgin Australia) and Impulse Airlines. Virgin Blue eventually moved into Terminal 3 following the demise of Ansett.
Southern Freighter Apron
The Southern Freighter Apron has five dedicated freighter parking positions which host 21 dedicated freighter operations a week.
Accommodation Near Melbourne Airport
Looking convenient and affordable accommodation near Melbourne Airport… then Hume Villa Motor Inn has some good deals for you.